WeWork, the American company that manage and rent shared work spaces, could go public for around 20 billion dollars. But this assessment is well below expectations, to the point that the IPO could be postponed. One more detail of an operation that has been involved in controversy since its official announcement.
¿What is WeWork?
WeWork is a real estate company founded in 2010 by Adam Neumann, Miguel MacKelvey and Rebekah Neumann. From its headquarters in New York, it offers its services worldwide, in more than 550 different locations. Specifically in Spain they have 9 buildings and have 3 planned openings, all located between Madrid and Barcelona.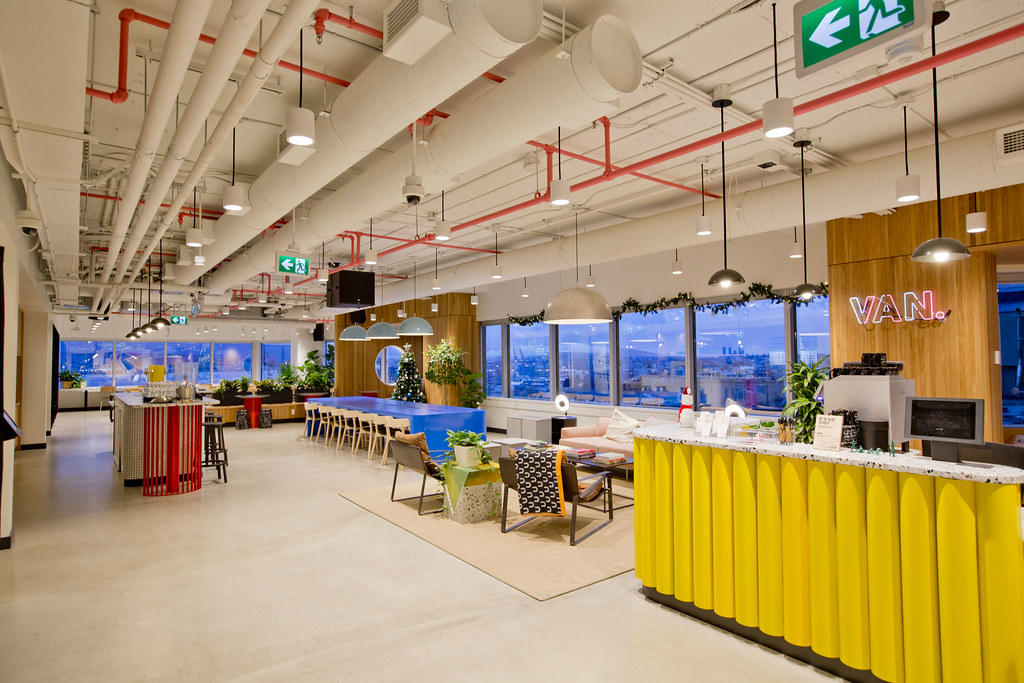 In their buildings they usually pose three different services or rentals:
Shared desk, the cheapest option, is usually around € 250 per month in Spain.
Personal desk, a service with greater comfort that ranges between € 350 and € 400 per month.
Private offices with a cost over € 1,000 per month.
The company's target is very broad, from freelances to multinationals, also SMEs or entrepreneurs. These fees include cable internet and Wi-Fi access, printers, telephone booths and drinks such as coffee, tea or fruit water. Prices vary by building and, above all, location. The income generated by WeWork comes almost entirely from the rent charged to its "subscribers". Only about 10% comes from derivative services.
A very good initiative, taking into account current labor trends, in which Co-Working spaces are very well valued. Why is the market then skeptical of the release of such a company?
The controversy
Several experts consider, however, that the company is heavily overrated. The company's last round of financing, led by SoftBank, the leading Japanese technology fund, set its value at 47 billion euros. And according to Fortune, Goldman Sachs declared that the New York coworking company could soon reach a valuation of 65 billion dollars.
One of the main arguments of the skeptics is that the company does not buy the buildings in which it places its coworking spaces, or at least not the vast majority. They usually rent the spaces in the long term, for periods of around 10 years, and sublets them to his clients through a monthly subscription system. This makes the company more vulnerable to a possible recession.
WeWork has not registered benefits so far, to the point that Business Insider raised in a recent article if it would become profitable. In this same article they commented as "just like any IPO candidate" Neuman's company revenue grew exponentially, reaching a turnover of 807 million euros in the second quarter of 2019. On the other hand, they pointed out that losses were growing at the same time, which is not a good sign to invest.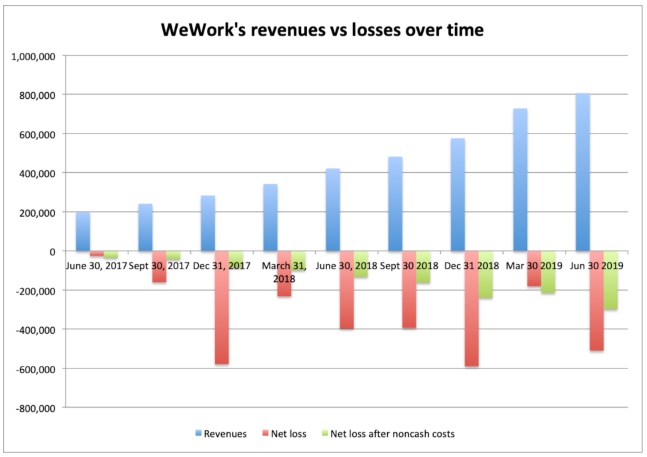 Source: Business Insider
In addition to systematic losses, it is highlighted that a clear pattern has not been encountered in WeWork Cash Flow, being negative in recent years. They conclude by stating that they consider the company's IPO as a necessity, a financial lifesaver, and not part of an expansion plan.
In the IPO, the company itself recognized that they had "a history of losses and, especially if we continue to grow at an accelerated rate, we may not be able to make the company profitable in the foreseeable future."
The nuance of the expansion is important since it is the factor they used to justify themselves. Although the company does not buy most of the facilities it provides to its customers, it incurs very high expenses with each of its openings, since, among other things, it is responsible for the design and remodeling of all its spaces.
The company is in an overwhelming expansion process. In 2016 WeWork signed 64 rental agreements for new centers, 139 in 2017 and 331 in 2018. Some experts and the company itself fear that this growth is not sustainable, especially given the international political-economic landscape, in which the The risk of entering an economic recession has increased in recent months.
Other unicorns
Renowned unicorns have almost never promised results and economic profitability. After the last financial crisis, the trend of investors changed slightly, focusing more on other factors, such as the potential for the future of these companies, than on a near financial return. This has not always worked out, but as we see the WeWork is not an isolated case.
The background does not correspond to the present. Facebook and Alibaba competed in their day to be the largest technological IPO and both companies already had good results at the time and with positive forecasts. The Californians had obtained 1,000 million dollars in their last fiscal year before their IPO, those of Jack Ma meanwhile made it with 1.3 billion dollars.
But since then there has been a major change in trend. These are some of the most media cases:
Lyft: The transport company, which offers a service similar to Uber and Cabify in the United States and Canada, is the last to join the list. The company prepares its IPO after recording millionaire losses in recent years systematically. The outlook for its direct rival Uber is not better.
Snapchat presented its brochure to the market with the following statement "we have recorded operating losses in the past; We hope to do so in the future and we may not be able to achieve profitability. " In addition to this presentation, the company had recorded losses of more than one billion dollars in the year prior to its IPO. To date, its shares have been devalued by 65% ​​and have not yet registered benefits.

Otros Casos como el de

Dropbox, Sopotify o Xiaomi

son casos que reflejan lo contrario. Tras una salida en bolsa registrando perdidas y augurando malos resultados en el corto plazo han logrado el crecimiento esperado. Dropbox y Spotify generaron beneficios en 2018 por valor de 484 y 78 millones de dólares respectivamente. Xiaomi ha registrado en los 3 primeros trimestres de dicho año unos beneficios netos de 1,3 mil millones de dólares.