The conglomerate Anheuser-Busch InBev NV will launch a "Initial Public Offering" this year in Hong Kong, to obtain between $8.3 and $9.8 billions in fundings, according to sources such as CNN or CNBC.
AB InBev NV is the largest beer manufacturer in the world, as a result of the successive mergers and acquisitions it has carried out in this century. After the merger of the Belgian Interbrew and the Brazilian AmBev in 2004, which created the world's largest brewer, the group has not stopped buying iconic companies of this market: in 2008 they bought Anheuser-Busch, one of the leaders of the American market and manufacturer of the famous Budweiser; in 2013 they  took control of Grupo Modelo, the largest brewer in Mexico and known for its flagship brand Corona (Coronita in Spain until 2016); and in 2015 they acquired SABMiller, the second largest manufacturer in the world at the moment, and one of its biggest competitors.
The result was a company of almost 55,000 million dollars for sale, and a 28% share in the world beer market.
The operation
Its Asian subsidiary, Budweiser Brewing Company APAC, the largest beer retailer in Asia, plans to sell 1.63 billion shares at a price between € 4.55 and € 5.34 on the Hong Kong stock exchange.
The sale of these shares should bring a financing to the company of between $8.3 and $9.8 billions, with which they Will try to reduce part of its bulky debt. According to CNN, the acquisitions made by the group in recent years have increased the debt to more than $102 billions, especially for the last and most important, that of the SABMiller group.
Budweiser Asia would obtain 16-18 times its company value over EBITDA, compared to the 15 times that Tsingtao is being valued, or the 10 times EBITDA that is calculated for Japan's Kirin.
Why?
The interest of Budweiser in this operation responds to the importance of the Chinese market for the beer sector. The group already sells more beer in China than in the United States, and leads the growing niche of premium beers with almost 50% of the market. Its offer includes 50 different brands of the group, among which stand out its premium Stella Artois or Corona.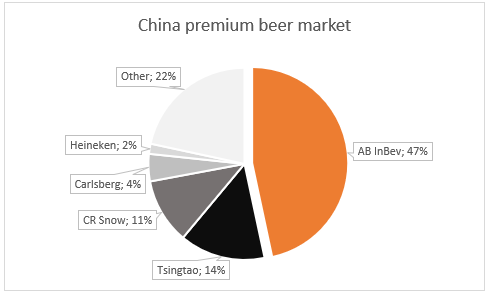 Source: Bloomberg
Rumors of a possible acquisition of another brewer in South Asia could also be behind the launch of this IPO.