The automotive sector is preparing for a drastic change worldwide. Currently the vast majority of companies are in process of transforming their catalog to increase their supply of plug-in vehicles, whether purely electric or hybrid.
This trend change is strongly influenced by political factors of  environmental nature, since the new European Union targets for CO2 emission per passenger and vehicle are highly demanding: it aims to reduce CO2 emissions by 37.5% of new vehicles in 2030, compared to 2021.
The objective was met with rejection by companies in the sector. According to The Guardian, the automotive industry called the goal surreal. The president of the European Association of Automobile Manufacturers (ACEA) said that the measures "are extremely demanding with the European automotive industry," adding that they would have a very strong impact on employment.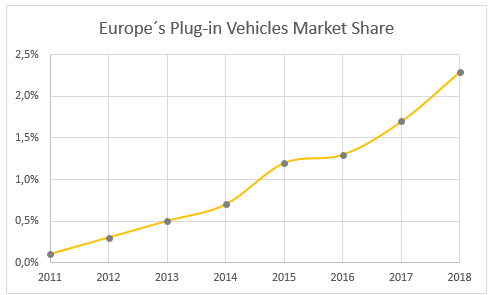 In addition to international political support, the electric vehicle market has not stopped growing since its begnings, despite the fact that in 2018 they only made up 2.4% of the market in Europe. In Norway, a country that will ban the sale of vehicles that use fossil fuels in 2025, electric vehicles already account for more than 18% of sales.
Impact on the market
This situation caused movements of some depth in the market. We can highlight the alliance between BMW and Jaguar Land Rover (JLR) to accelerate their electric models´ production processes, as well as to lower this technology price. The intention is to save millions of euros in the development of the next generation of vehicles, exploiting strong synergies in production processes, cost planning and purchases. The alliance also includes the joint development of connectivity systems or autonomous driving.
Both companies are clearly betting on this niche, as evidenced by the launch of the sub-brand BMWi, under which it sold its i3 and i8, or the Jaguar I-Pace, awarded as the Best Car of the year 2019 at the World Car Awards.