"Retail apocalypse" it is the denomination that popularly receives the tendency of the last years in the United States of closing retail stores , just the opposite of what is expected in an era of economic prosperity and consumer confidence: the moment of great openings.
With time comes change, capitalism is the greatest representative of this expresion. All along history we have witnesed banckrupcies and disappearances of companies that used to be market leaders, or even pioneers, who failed to adapt to market changes.There is many examples of the  "we have always done this way" phillosophy, like Nokia, Kodak or Blockbuster, they coul not adapt to the market changes or at least not quick enought.
For these reasons and others that we will discuss later, the retail  apocalypse has already claimed notable victims, the most recent Forever 21:
Sears ended 2018 declaring bankruptcy, and dodging his complete disappearance in 2019. First, it closed 140 Sears and Kmart stores in the United States , its two retail chains, and shortly thereafter another 80. Today it has less than 500 stores, far from the 2,000 of 5 years ago.
GAP declared bankruptcy in 2016. Among his plans is the closure of 230 stores between 2019 and 2020.
J.C. Penney has been trying to restructure his business for years to return to the path of good results, but the company closed more than 70 stores between 2013 and 2014, 140 in 2017 and planned to close more than 20 this year.
What causes the apocalypse?
Why are the news full of catastrophic headlines about closing stores or commercial surfaces? The mainstream media blames e-commerce or experience oriented millenials as the main causes of the apocalypse . But Is this true? What is the real impact of these facts in the retail market?
E-commerce
Yes, it is true that the internet and the application of its tools to traditional retail businesses is a challenge, especially for small businesses. But the truth is that the impact of electronic commerce is often less than popularly thought.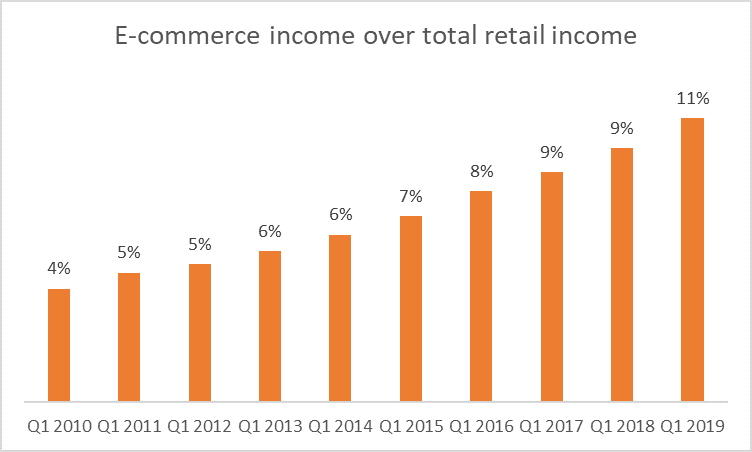 Source: Statista
E-commerce, regardless of its developement and unstoppable growth, it still represents a small percentage of the total income of the overall retail companies in the United States, the main protagonist of this "apocalypse".
In addition, online presence does not have to mean disappearance of physical stores. According to a survey of ICSC (International Council of Shopping Centers), 55% of online customers consider important nearby physical presence. According to this same study, around two thirds of millennials from Europe, United States and Canada, that buys online, consider important the retailers physical presence. As 50% of generation X and around two fifths of "babyboomers".Therefore, we could say that the relevance of physical stores has not disappeared.
Experience oriented
It is true that millennials and other new generations, like la gen Z, highly values theirexperiences Above a specific product. That is why we see more and more establishments in the center of cities dedicated to services, such as beauty centers or gyms in shopping centers.
In the same way that experiences in the services are valued, product buying experience is also valued, where physical establishments can have advantages over the Internet Marketplace.Or at least they could act as a "showroom" that motivates a purchase online later.
Another survey of ISC, focused on gen Z, states that three quarters of this generation say that shopping in a physical establishment generates a more valuable experience than doing it directly online. The factors that cause this experience are, according to the survey, the ability to socialize, see the products physically and be able to buy them immediately. Not only is showrooming a trend, but the opposite is also:8 out of 10 generation Z ensures that you have purchased products after viewing it on networks. As for the large areas, it is important for them the possibility of carrying out activities beyond buying, such as going to the cinema or having a drink.
Debt and overcrowding
Despite the influence of the factors previously mentioned in the "retail apocalypse", we consider that these are not enough to generate a "catastrophe" of such magnitude. The most determining factor, especially in the case of the United States, it is the debt of the chains with many years of life. Some of these chains accumulate million-dollar debts, normally caused by leveraged purchases of capital funds. These companies avoided bankruptcy based on refinancing the debt, which only bought them some time. Let's add to this a large overpopulation of stores, the result of a time when growth and expansion meant opening hundreds of stores a year, and we have the perfect mix for this retail crisis.
Some Spanish firms that managed to adapt
Inditex
Inditex, Galician holding owner of retailers such as Zara, Pull & Bear, Bershka or Massimo Duti seems to be adapting properly to new market trends. Your bet is omnichannel.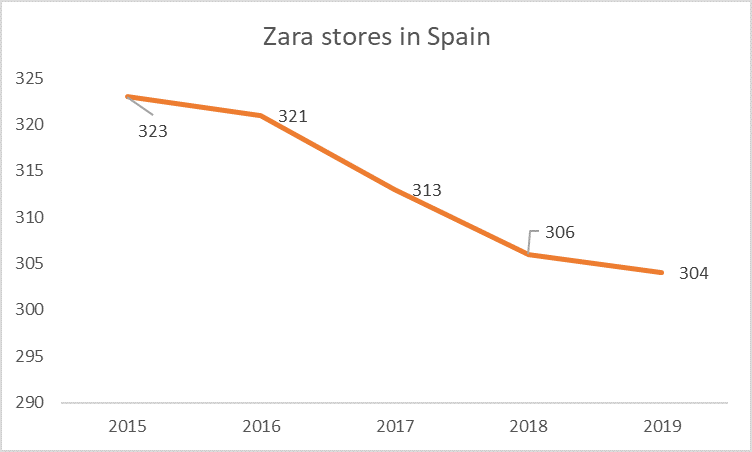 Source: Statista
This adaptation process involves the closure of some of the less emblematic stores of the firm, maintaining the largest and most central to effectively offer this omnichannel. This strategy it is based on the possibility of collecting orders placed online at the physical establishment, as well as make returns. Today, about a 30% of deliveries and a 60% returns of online sales are made through the physical shop.
Mercadona
While Inditex tries to shape its network through its existing physical facilities, Mercadona sIgue a completely different strategic line. Those of Juan Roig intend to expand a network of "Colmenas" that will be department stores from where to make distribution directly to customers in a cost effective way. They will deal with this strategy to find a model adapted to their sector for new trends. Eliminating the current modus operandi of sending home orders from the same establishments open to the public.

Currently the Mercadona project is in initial phase. The first "colmena" of the company is on the outskirts of Valencia and serves more than 137 postal codes. It is located in a ship of 13,000 square meters and has a team of more than 150 people. Last July the company opened its second hive on the outskirts of Barcelona. A complex of 10,500 square meters in which he invested more than 7 million euros and employs 92 people.
Mercadona plans to install its next hive in Madrid in early 2020 and this will be followed by other major Spanish cities.