China and the United States, the two world economic superpowers, are in an economic war since July 2018. And as expected, the tariffs and bans applied by both sides are having important consequences in large companies.

Huawei was included last May in the blacklist of the American government, using the International Economic Emergency Powers Act, which gives the US president the power to regulate trade in the face of a threat to the United States.

Trump considered that there is a threat for the personal use of devices or services offered by foreign companies, such as Huawei, through which they try to spy on the US economy and industry.
The consequences of the ban
By being included in this blacklist, Huawei's relationships with US technology companies were greatly complicated, highlighting Google´s reaction, which temporarily suspended its business relations with the company.

Huawei, which uses an Android operating system, lost immediate access to updates to that system, in addition to access to applications such as Google Maps, Google Pay or Gmail. This could mean a loss of almost a third of its income to the Chinese company.

But not only Huawei would suffer the consequences of the veto, remember that the Chinese technology is one of the market leaders at the moment, and with that one of the most important customers of Google.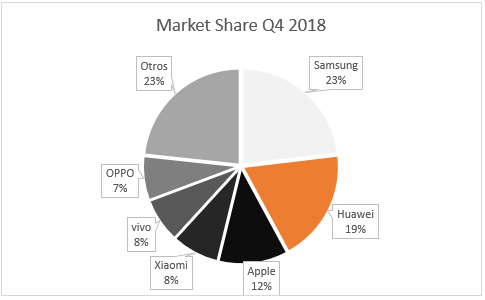 Source: Statista
The calm after the storm
According to various international sources, such as The New York Times or CNBC, the American technology companies have pressured the Trump administration to normalize the situation.
These companies claim that Huawei could use suppliers from other countries such as South Korea or Japan, with the consequent loss of revenue for many American companies, while the measure would not stop the technological growth of Huawei.
In the G20 Trump and his Chinese counterpart Xi Jinping agreed a truce in this trade war that has the global economy in suspense. After this the US administration has announced that they will grant licenses to national companies to trade with Huawei in areas that do not affect national securiy.