News about alliances between large companies are common in the international media, highlighting the opportunities that they intend to exploit, synergies they generate for the signatories or improvements in products or services that they foresee to achieve. No doubt these objectives can be achieved, but sometimes professional relationships, can be twisted.
The Wall Street Journal, CNN and CNBC, among other media, talked these days about the conflict between The Coca-Cola Company and Monster Energy Company. Coca-Cola´s new product: "Coca-Cola Energy" endangered the agreement between the two companies, signed in 2015.
The pact
The Coca-Cola Company, leader in the soft drink sector and one of the largest global distribution networks, and Monster Energy, one of the leaders in the energy drinks market, signed an alliance in 2015 whereby the company from Atlanta acquired part of the Californian company capital. Coca-Cola currently holds nearly 19% of the shares of Monster Energy.
In the mentioned pact both would unify the distribution of their products in the United States and Canada, leaving for later the operation in other countries. In addition, Coca-Cola gave Monster all its energy drinks business, among which were brands such as NOS, Full Throttle or Burn. For their part, Californians would do the same with their non-energy products.
With the launch of "Coca-Cola Energy" their allies understood that the agreement had not been respected, so in October of last year they reported the situation to the American Arbitrary Association. On June 28, 2019, the association considered that Coca-Cola could launch its product worldwide, given that when it was marketed under the brand name "Coca-Cola" it fully respected the signed no-competition agreement.
In spite of this Coca-Cola has communicated that they will maintain its relations with Monster.
The market
Now that the leading company of soft drinks has a free path, it poses a great challenge, to introduce themselves in the energy drinks market.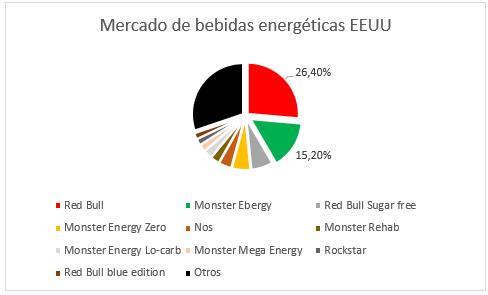 Source: Statista
A market led by Red Bull and Monster, with market shares, in the United States, of 26.4% and 15.2% respectively.
On other occasions we have talked about the importance of branding, especially when entering new markets. Coca-Cola has a very strong image in the mind of the consumer as a producer of cola. Is it possible for a product with the name of a refreshing drink to gain a place among the leaders of energy drinks?